motion sprint 600 SL
The motion sprint 600 SL is the all-around feel-good treadmill for the classical health or rehabilitation facility. The lamella system is silent and joint-friendly. The integrated height adjustment by 15 degrees is comfortable and efficient.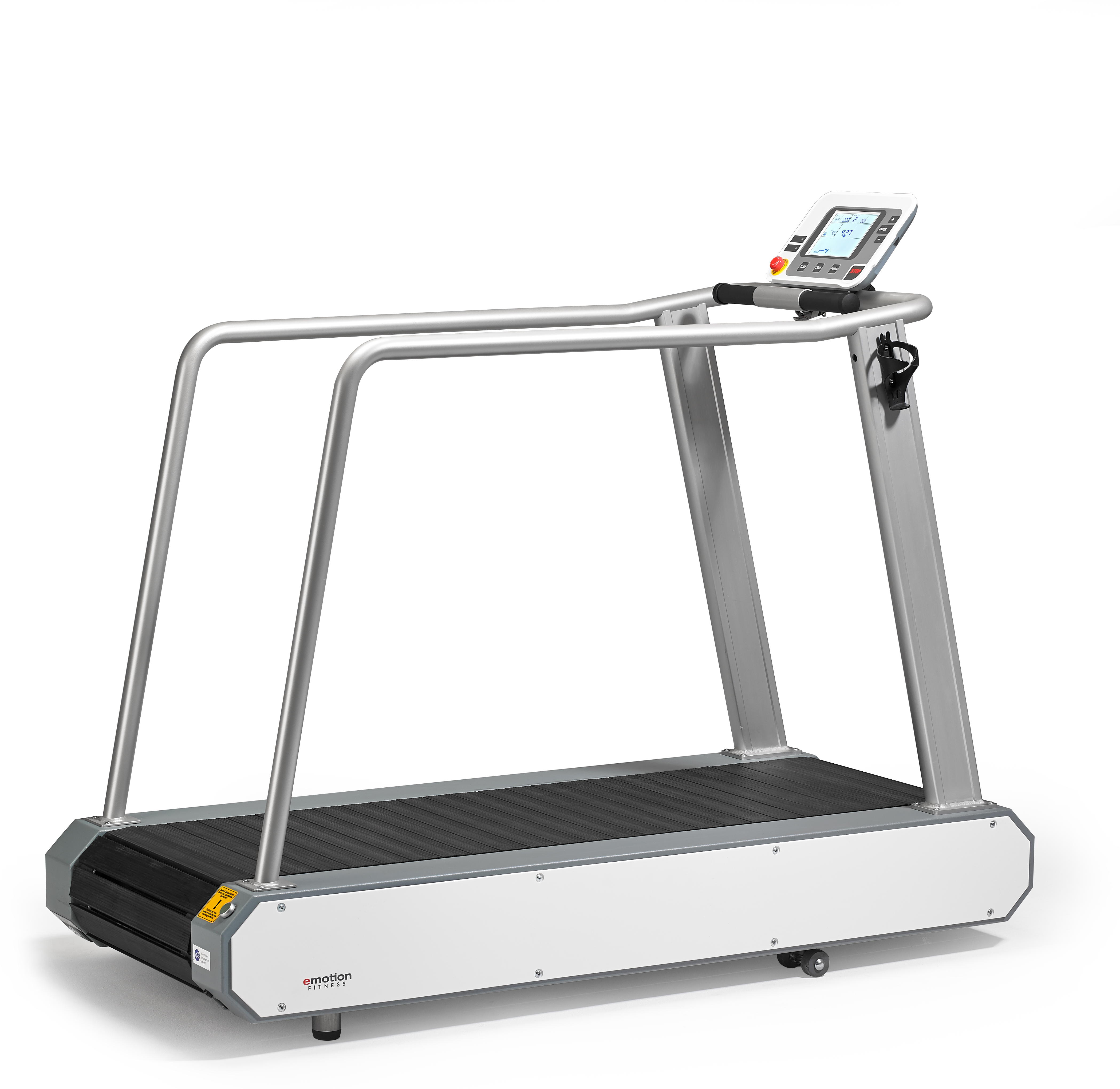 The motion sprint 600 SL (the variation with medical approval) is one of our superior treadmills with proven lamella system. Due to its frictionless instalment, the treadmill is low maintenance and energy-saving.
The motion sprint 600 SL possesses an often-indispensable gradient adjustment. One of its benefits is, that on this version all pulse-controlled programs can alter the workload either via a change in speed or incline.
Numerous options like reverse movement direction, increased speed or gradient, a fixture for securing of persons, arm rests or bar handrails make the offer complete and make it possible to get exactly the device that you need for your customer group.
It scores with excellent cushioning since the lamellas are hung into the industrial ball bearings only on the left and on the right so that they can swing freely. This setup also provides other advantages like less sound, which barely increases even at higher training speeds, as well as the pleasing low maintenance and slender energy consumption. The motor needs to overcome little resistance due to friction and therefore it is powerful despite the mere 1300 Watt brushless DC engine. At a continuous usage you will see this at the end of the year as a positive factor when you look at your energy consumption. Our warranty promise, which is 5 years or 160.000 km for the lamella system, shows how convinced we are of the belt.
Our best-selling treadmill is the motion sprint 600 SL med. For the medical machine we want to keep the step-on as low as possible so that we have decided to abstain from a negative gradient by default. Thus, we can offer you a gradient from 0% up to + 15% here.
Also the hand rails are running horizontally to the very end of the machines, so that your trainee can hold on safely when getting on the machine.
On the other side, the fitness version of the treadmill comes along with a more sportive handrail design and a gradient range from -3% up to +12%, thus enabling larger variation on interval runs.
FUNCTIONS
high quality lamella system
very comfortable running feeling due to optimal cushioning and low friction
emergency stop button on the monitor
speed between 0,1-17,0 km/h in steps of 0,1 km/h
gradient fitness: -3 bis +12%
gradient med: 0 bis +15%
Distance display exact to 1 m up to 1 km, after that exact to 10 m (fire department application)
3 programs: Quick, Watt, Pulse
pulse controlled programs can be gradient or speed dependent
multicolour backlight with bio-feedback
coded Polar® pulse receiver
RS232 interface
OPTIONS
therapy program package (see monitor description)
RFID system/wireless network for integration into different training control systems
additional emergency stop with magnet release cord
variety of accessories, e.g.: underarm rest, bar handrail, fixture for securing of persons, reverse direction
TECHNICAL DATA
energy saving, brushless 1300 Watt DC-Motor, tooth belt lamella system
performance range: speed between 0,1-17,0 km/h in steps of 0,1 km/h; gradient fitness: -3 bis +12%;
gradient med: 0 bis +15%
manufactured according to: DIN EN ISO 20957-1 S-A-I, DIN EN 957-6 A, DIN EN 60601-1, DIN EN 60601-1-2/safety class power supply: 230V/50-60Hz/EWG, separate fuse protection required
medical product additionally: CE according to guidelines for medical products 93/42 EWG. Class IIa
authorized user weight: 150 kg
running surface: 155 x 50 cm
measurements (L x W x H): 173 x 76 x 145 cm
weight: 170 kg