motion cycle 100 med
All the basic features you need for a good and safe cardiovascular training are implemented in the motion cycle 100 med.
The motion cycle 100 med is a robust and medically certified ergometer that is easy to operate and includes the basic functions of a medical training device. It is always manufactured according to the medical directive 93/42 EWG, class IIa and equipped with a coded pulse receiver, three training programmes, backlight and interface. The included quickstart programme is speed-dependent, the timed training is watt-constant and thus speed-independent.
We also consider a pulse-controlled and therefore also speed-independent training programme to be essential for good endurance training. The valuable independence from the power grid avoids annoying tripping hazards and saves electricity. The unit is always equipped with a chip card reader so that training programmes can be stored on customer cards without a PC. The particularly small housing leaves enough space for easy access.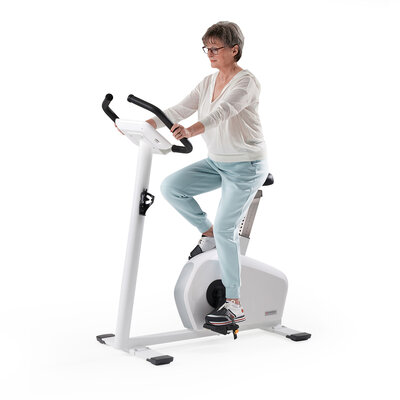 Since it is always medically certified according to 93/42 EWG, it is suitable for patients, as well as for sophisticated trainees, possibly with pre-existing conditions.
The low and wide step through is very popular since it allows even movement-restricted persons to access the ergometer without help. The vertically adjustable seat as well as the handlebar, which allows for different seating positions, make the motion cycle 100 an ergonomically successful training machine.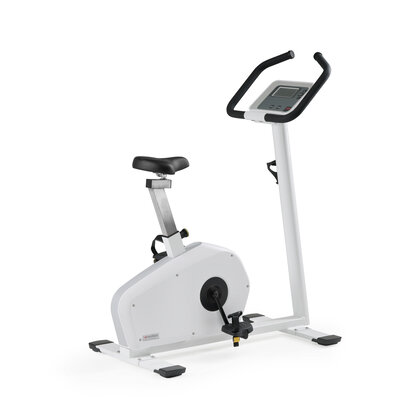 The grid-independent brake enables us to give you even more flexibility.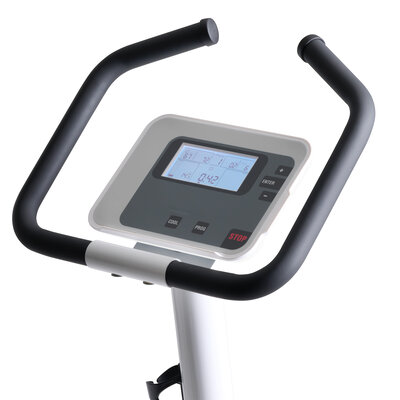 FUNCTIONS
low through-step
vertical seat adjustment
rpm-dependent Quick Start programme
rpm-independent Watt programme
pulse controlled, rpm independent pulse programme
coded Polar® pulse receiver
RS232 interface
OPTIONS
refitting of V-cranks (length-adjustable crank)
refitting of easy move system
TECHNICAL DATA
grid-independent operation
calibrated and recalibratable hybrid brake system (HBS)
mono belt drive, self-adjusting and silent
performance range: 25 – 300 Watt rpm-independent
increments: 5 Watt
CE according to guidelines for medical products 93/42 EWG, class IIa
authorized user weight: 130 kg/286 lbs
measurements: approx. 117 x 65 x 145 cm / 46 x 25.6 x 57'' (L x W x H)
weight: approx 58 kg/128 lbs