motion cycle 900
The motion cycle 900 comes along with various technical improvements. The newly developed fine monitor is combined with constructional changes such as the larger step through, the wider adjustment range on the seat post and an optionally adjustable handle...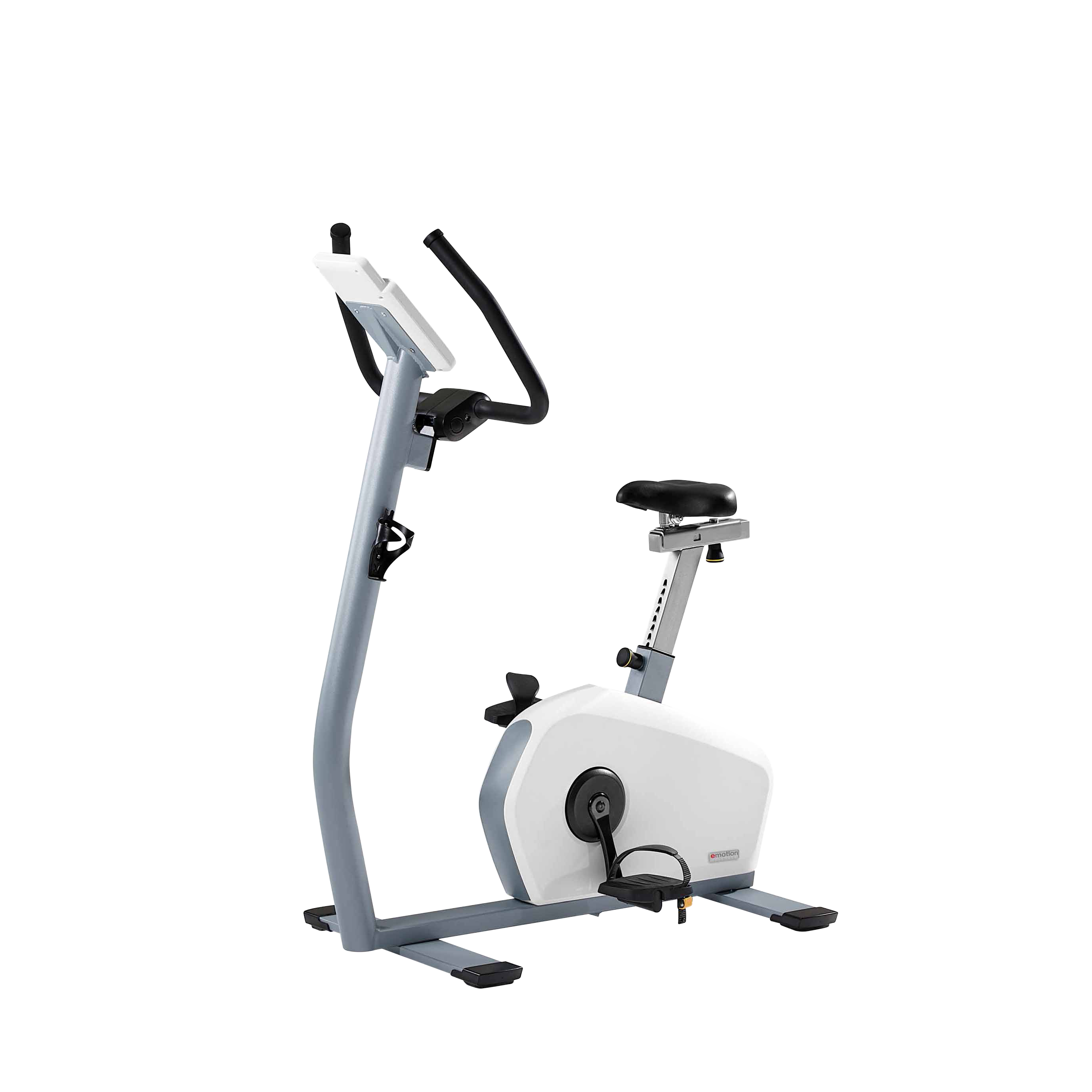 The motion cycle 900 has been developed with focus on biomechanical aspects and meets all the requirements for an optimal, individual training position. Parallel to the changes in the monitor, the housing has been made more compact to allow for a wide step-through of approx. 36- 41 cm/14.1-16.1'' and a deep position of the axle for easier mounting and dismounting . Children can use the motion cycle 900 from a height of approx. 135 cm/53''. The seat post has a very wide adjustment range, which extends the user group to heights up to 205 cm/80''. Whether tall or short, athlete or patient, everyone benefits from the Q-factor of no more than 18 cm/7'' and the horizontal saddle adjustment. If you want to further optimise your training position, we offer the handlebar adjustment as an option. This allows the handlebars to be swivelled horizontally and vertically and thereby allows an upright or triathlon position. The technology used allows wobble-free fixation with little force.
The access is extra wide from bottom to top and ensures getting on and off the machines easily.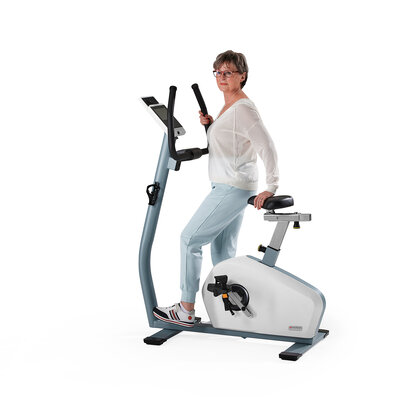 The handle can optionally be adjustable. If chosen, the handle swivels in height and angle at the same time, thus enabling a more upright or triathlon position. The mechanism used is low wearing and can be adjusted with little force.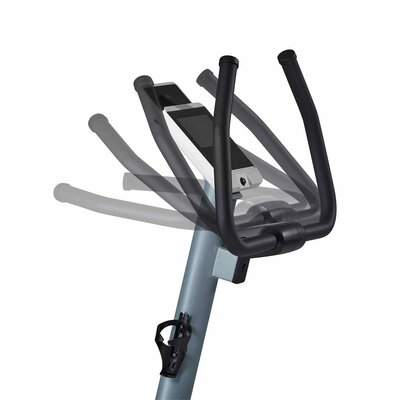 A wide adjustment range of the seatpost allows trainees between 1,25 m and 2 m height a suitable and comfortable training position.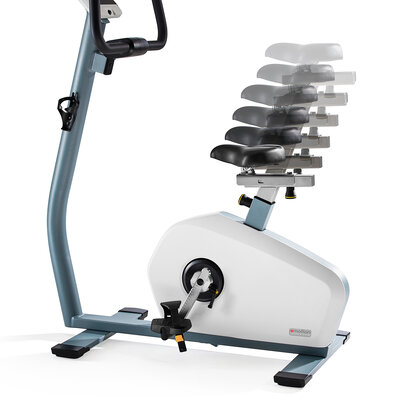 8-year old kid at around 1,25 cm.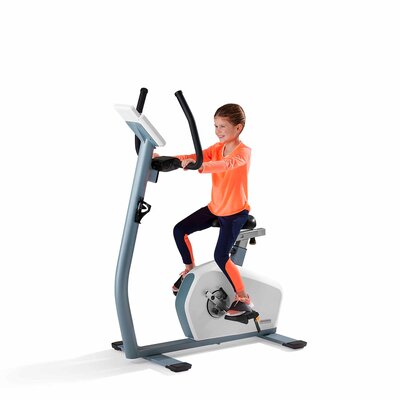 The optional length-adjustable crank arm is made from stainless steel and adjustable without the need of any tooling. The scale with increments of just 1 cm allows correct and repeated positioning within the range of a 55-175 mm radius.
The motion easy move system is used for an effortless moving and locking of the machine...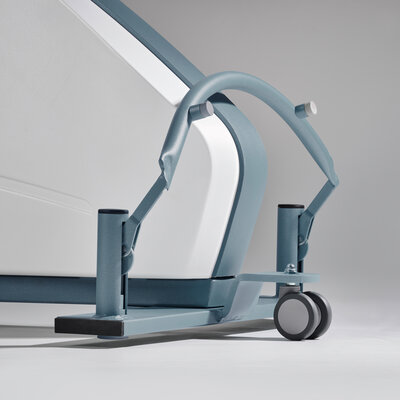 ... and is being used in limited spaces as well as in situations, where the machine needs to be taken to the patient and not vice versa.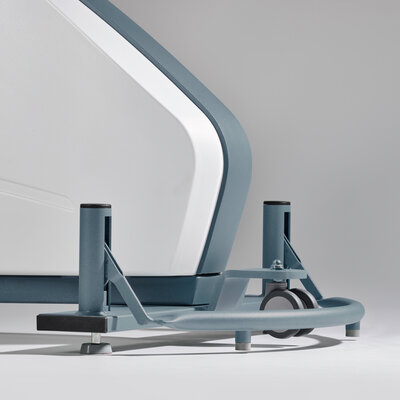 FUNCTIONS
attractive, full-colour display
durable, clean touch display
quick start, time training, pulse training
interference-free Polar® heart rate indication with automatic device connection
low and wide step through
vertically and horizontally adjustable saddle
OPTIONS
performance package (Qi charging, max. 950 watts, with optional power supply min. 7 watts)
connect package for system integration (RFID, NFC, Bluetooth® Low Energy, Barcodes)
programme package (10 training programmes, test profiles, motion balance system, serious games)
"all-in-package": performance + connect + programme package
boosted cycle - user weight increase to max. 200 kg/440 lbs
length-adjustable cranks, adjustable without tools
motion easy move - roller lift system
adjustable handlebars
housing in anthracite colour
certification according to 93/42 EWG, class IIa
TECHNICAL DATA
7-inch capacitive touch display
Polar® auto connection (5kHz & Bluetooth®), downward compatible
mono-belt drive, self-adjusting
calibrated and re-calibratable, quiet HBS brake
side-dependent power display
mains-independent operation
manufactured according to DIN EN ISO 20957-1 S-A-I,
DIN EN ISO 20957-5 S-A-I, DIN EN 60601-1-2
medical devices certified according to 93/42 EWG, class IIa
medical power range: 15 - 500 watts rpm-independent
fitness power range: 25 - 500 watts rpm-independent
rpm range: 15 - 140 rpm
max. user weight: 150 kg/330 lbs
dimensions: approx. 119 x 65 x 145 cm/ 46.9 x ,25.6 x 57.1'', approx. 58 kg/128 lbs