motion easy move
With the motion easy move system, you can turn our bicycle ergometer into a device which fulfils all requirements of a medical training system, yet, it is still mobile. It is a roller lever system which can be mounted to our motion cycle 200 med and the motion cycle 600 fit/med ex works or as a retrofit.
Thus, the ergometer can be lifted on rollers and moved after each training without effort.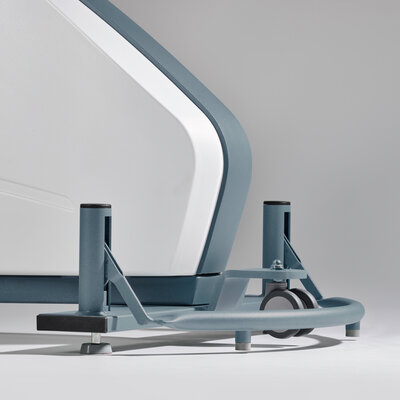 The motion easy move is one example for a concrete customer wish which incited us to develop a new device option.
A nurse was looking for a training machine for her oncological ward which could enable isolated, but not bedridden patients to stay physically active. It should be possible to bring the machine to different patient rooms for training. The nurse was very surprised to hear that no such machine was available on the market. Of course, the need for it made sense, so we developed the motion easy move system and are very pleased to have a solution with which a person can easily move the machine onto rollers and move it in an uncomplicated way.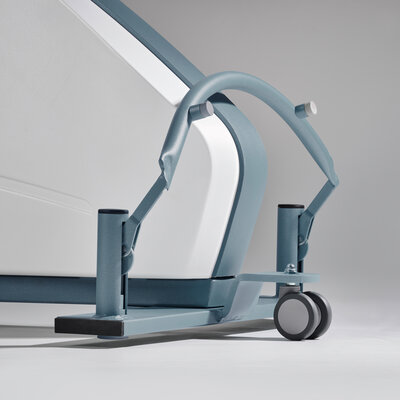 Obviously, this usage scenario has not been the only one; in other therapy situations or in limited space conditions in physical therapy practices, it proves to be highly practical.
This option becomes especially useful and easy to handle due to the fact that our machines are inherently grid-independent! No cables, no power outlets that you need to consider and therefore you have full flexibility!
Watch here on how easy the system works.
FUNCTIONS
usable with the motion cycle 200 med and motion cycle 600/600med
optional for new machines or as a retrofit
roller lever system to move the machine easily in between usages
helpful in small rooms or for immobile users
OPTIONS
roller lever with a 360° transport roller at the rear machine foot, inline rollers with ball bearing at the front machine foot
TECHNICAL DATA
weight: approx. 3 kg as an option, approx. 11 kg for retrofit