monitor 900
The monitor of the motion line 900 contains all the functions needed for the next generation of medically certified, professional cardio machines and enables superior training methods as well as system integration.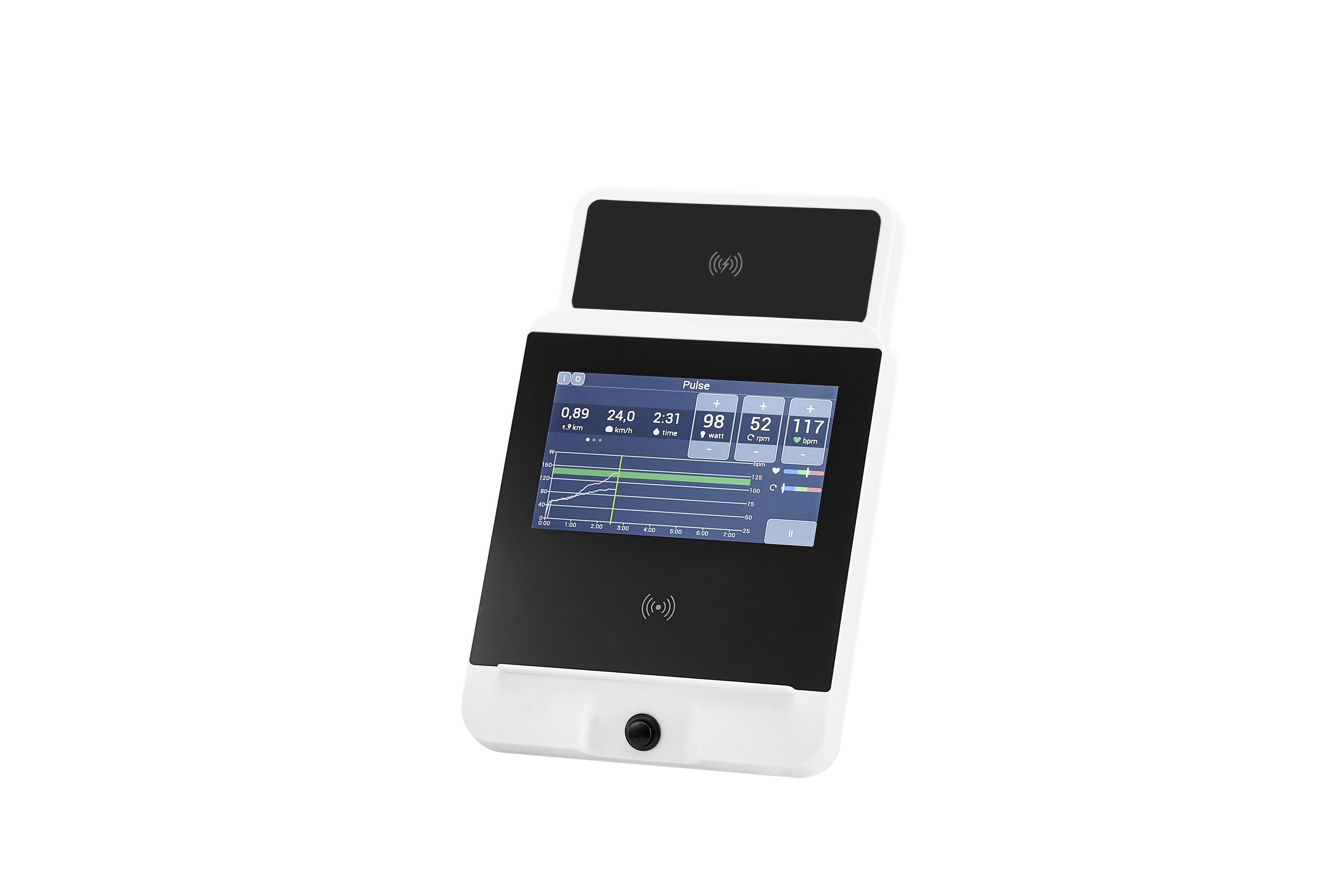 The capacitive 7'' touch display convinces with diverse, appealing views and upgraded visualization of the training processes, while still being easy to use. Standard on the bicycle ergometer, the recumbent bike and the elliptical trainer is now also an index of the force distribution between right and left leg, our motion balance system light, which helps all orthopedic as well as neurologically predisposed trainees to work as symmetrically as possible. Little visible, but important in today's everyday training, are the diverse networking opportunities. Here it is now possible to easily use NFC and barcodes in addition to RFID identification. Just like identification, data transmission to the training control system can also take place in a variety of ways, so that the devices can be implemented in a control system easily and wirelessly.
With our motion cardio line 900, we also solve the old problem of heart rate disturbances caused by external influences! We can use the Polar® auto connection function without having a PC in the device and thereby continue to use it power independently. We use the established 5 kHz coil for identification and then automatically switch to interference-free Bluetooth® transmission. The important thing for your facility, in addition to accurate and trouble-free transmission, is that no manual coupling or decoupling is required. Also, older Polar® chest straps are still compatible using the 5 KHz frequency only. Once the Polar® belt has been digitally connected to the device, further parameters such as the heart rate variability can be transmitted. Of course, we are already working on solutions to control new parameters.
The monitor itself shines with a simple menu navigation and clear display of the training performance. In doing so, we want to continue to focus on good training and not on entertainment. The latter can now be easily supplemented via mobile devices if required. The integration is always done wirelessly via Bluetooth®. Smartphones or tablets can be charged inductively during training. The possibilities of individual training or therapy design are thus almost unlimited.
The programme selection interface is easy to understand and visualises the content.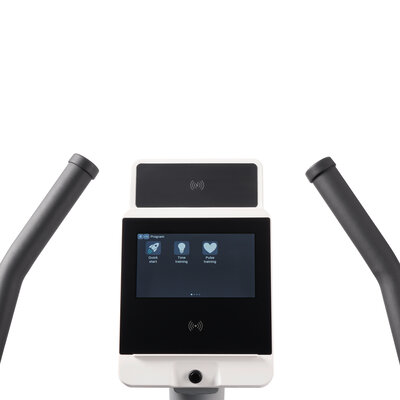 The pulse program with its clear values and graphic displays.
The indicator bars for heart rate and rpm provide orientation as standard feature, as well the additional motion balance light system at the cycle, relax and cross.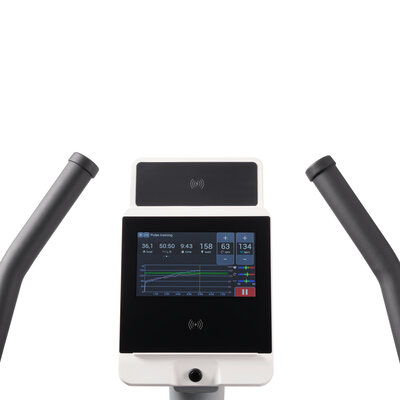 The performance package:
inductive charging for smartphones and tablets
Extended power range for some devices:
motion cycle 900, motion relax 900, motion cross 900: max 950 watts
motion body 900: max. 550 watts
motion sprint 900 SL/SE: max. speed 22km/h
motion cycle 900, motion relax 900, motion cross 900, motion body 900: reduced initial load of 7 watts when using an external power supply
ANT+ transmission option for compatibility with Garmin sensors, as well as the Polar® Verity Sense forearm sensor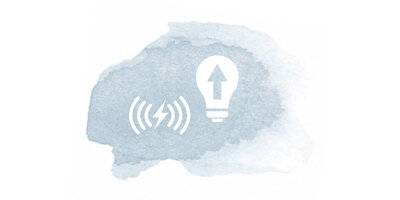 User menu with information on charging management, firmware version and activation of ANT+ transmission.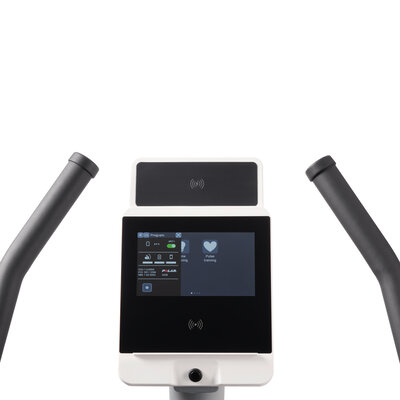 User in the heart rate programme with heart rate transmission via Polar® Verity Sense forearm sensor.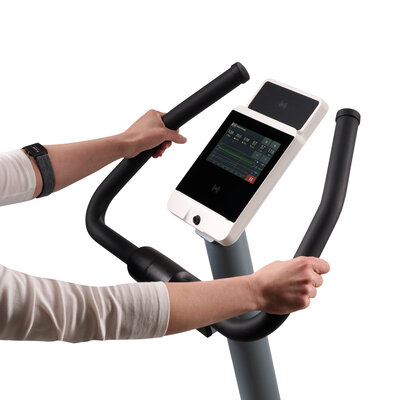 The connect package:
necessary for all types of system integration
Data transmission via Bluetooth®
User identification via RFID, NFC or barcode
Interface protocols such as emotion, ergoline, Trackmaster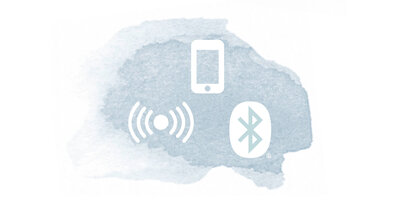 User identification via RFID wristband/card or via a smartphone using NFC or barcode.
The programme package (10 instead of 3 training programs):
Quick, Time, Pulse +
Interval
Calories
Distance
Hill
Watt sensitive
Therapy
Isokinetic (rpm constant)
cycle, relax & cross additionally: motion balance systems and 3 serious games
cycle additionally: 6 cardio tests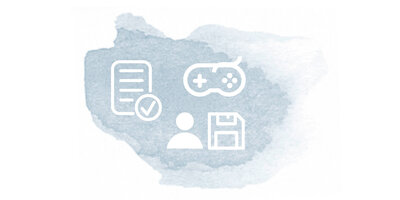 The interval training is the most individual training, in which each level can be specified individually in resistance and duration. Despite the complexity of the data, programming is designed to be manageable.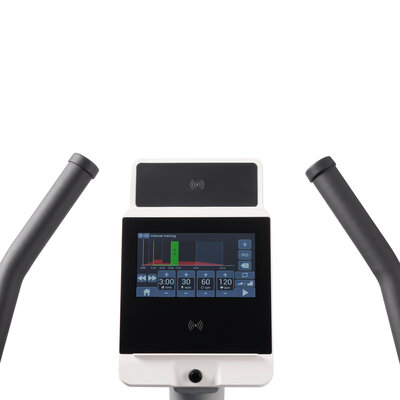 The Serious Game "Slalom" offers an easy start to the concient use of right and left leg.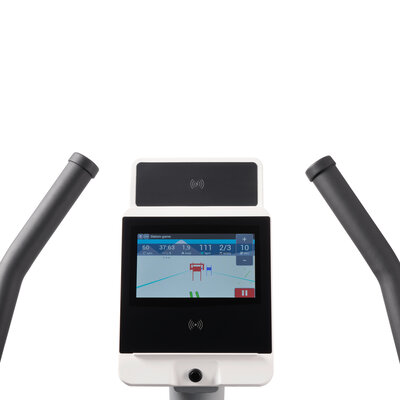 The "Balance" game presents varying weight stacks to the user on changing sides, which must be balanced out by the dosed activity from the opponing side.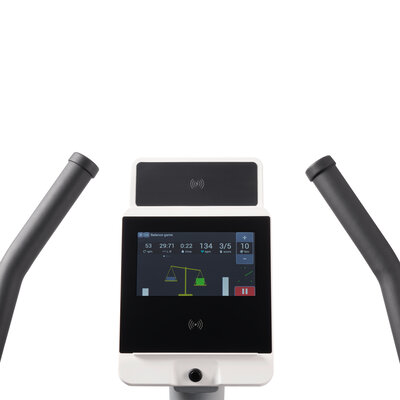 In the serious game "Freeway", the user has to work very symmetrically to avoid collisions with other vehicles.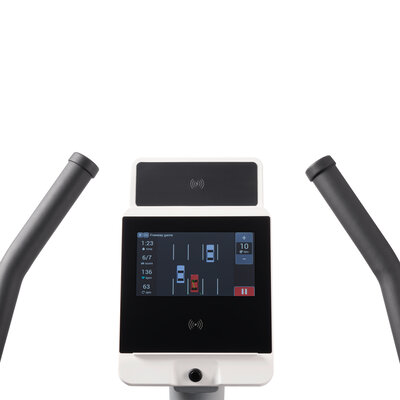 In the "L:R Balance" program, the distribution of pedal force (180° each) is shown in detail.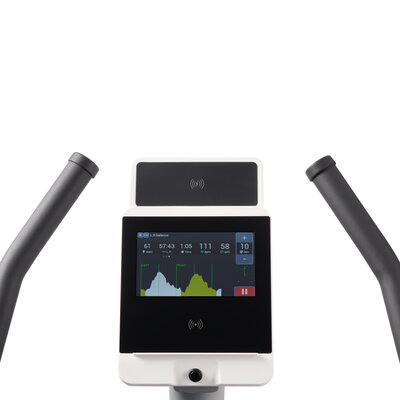 Test programs for the cycle:
IPN (also provided for PC evaluation by compatible software)
PWC
Conconi
Astrand
Standard
Lactate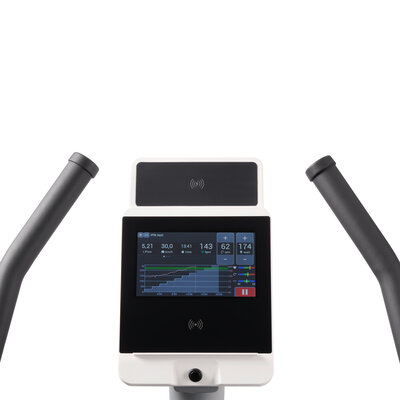 FUNCTIONS
Capacitive 7'' touch display
motion balance system light - small indication of right/left side comparison as standard on cycle, relax and cross
3 training programmes that enable rpm-dependent and rpm-independent training modes
Polar®-auto connection function (5 kHz & Bluetooth®), downward compatible
handy rack
small rim for reading support
home button as safety function
10 languages to be chosen by user individually
low power consumption - except for treadmill all machines can be used power independently
OPTIONS
performance package (inductive charging for mobiles or tablets, increased max wattage and reduced minimum wattage, ANT+ pulse connectivity)
connect package for system integration (connectivity via world wide accessible Bluetooth® low energy module; user identification via RFID band or card, NFC or barcode)
programme package (10 training programmes, test profiles on cycle, motion balance system & serious games on cycle, relax, cross)
"all-in-package": performance + connect + programme package