motion sprint 900 SE
The motion sprint 900 SE offers all the comfort and the advantages of the lamella system, just like the SL version. The scope of benefits is reduced by the gradient adjustment which therefore reduces the costs for this machine.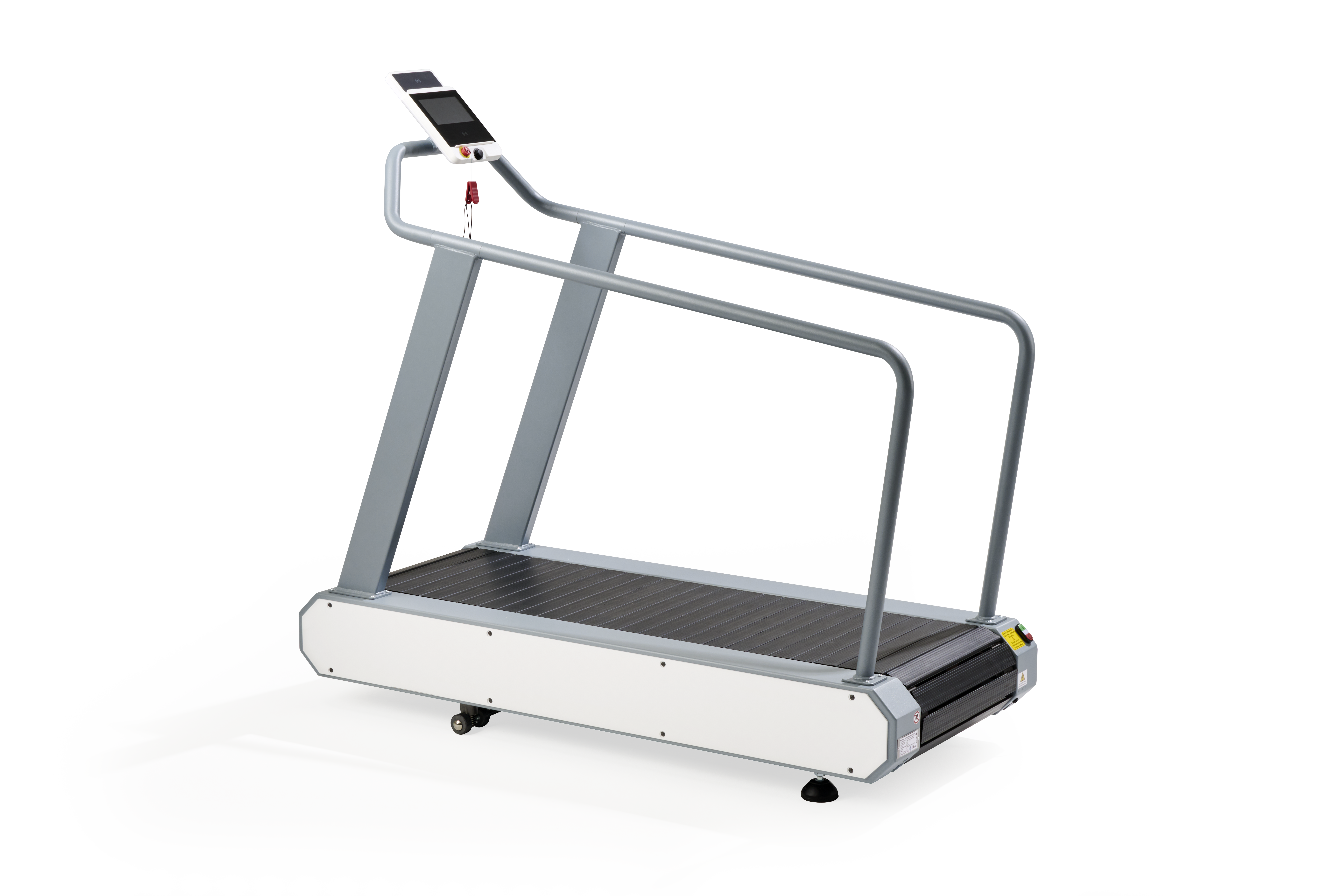 The motion sprint 900 SE also shines with 60 slats, that are laterally mounted on ball bearings for max cushioning and low wearing. Speeds as of 0.1 km/h can be realized smoothly. Up to 17.0 km/h are standardly included, a running speed of up to 22 km/h can be added by the performance package. The motion sprint 900 SE comes without adjustable inclination. The railing enables an ergonomic posture when walking, as when running, and assists in safely stepping onto the running surface. A wide range of options also make the treadmill a professional for special applications.
The lamella system scores with excellent cushioning since the lamellas are hung into the industrial ball bearings only on the left and on the right so that they can swing freely. This setup provides advantages like low sound at all speeds, low maintenance and slender energy consumption. Our warranty promise, which is 5 years or 160.000 km for the lamella system, shows how convinced we are of the belt.
FUNCTIONS
high quality lamella system
very comfortable running feeling due to optimal cushioning and low friction
emergency stop magnet with safety clip on the monitor
speed between 0,1-17,0 km/h in steps of 0,1 km/h
distance display exact to 1 m up to 1 km, after that exact to 10 m (fire department application)
attractive, full-colour display
durable, clean touch display
quickstart, time training, pulse training
interference-free Polar® heart rate display with automatic pairing
5 years or 160,000 km warranty on the slat belt
OPTIONS
performance package (Qi charging option, max 22km/h)
connect package for system integration
programme package (additional programmes)
"all-in-package": performance + connect + programme package
user weight increase to 250 kg
bi-directional belt drive
bar railing
underarm supports for children or adults
safety arch
Certification according to 93/42 EWG, class IIa
TECHNICAL DATA
7-inch capacitive touch display
Polar® auto connection (5kHz & Bluetooth®), downward compatible
belt-guided lamella system
energy-saving, brushless 1100 W DC motor
emergency stop system with magnetic cord
power supply: 30V/50- 60 Hz, EWG, separate fuse protection necessary
manufactured according to DIN EN ISO 20957-1 S-A-I, DIN 957-6 S-A-I, DIN EN 60601-1-2
Medical devices certified according to 93/42
EWG, class IIa(i), manufactured according to
EN60601-1/protection class
power range: 0.1-17.0 km/h
SL models: inclination angle 0-15%, optional -3 to 12%
running surface: approx. 155 x 50 cm
max. user weight: 160 kg
dimensions: approx. 173 x 76 x 145 cm, weight: approx. 156 kg