motion body 900
The motion body 900 is the perfect training machine to strengthen or mobilize the upper body and the arms specifically. Its wide height adjustment makes it ideal even for a standing training.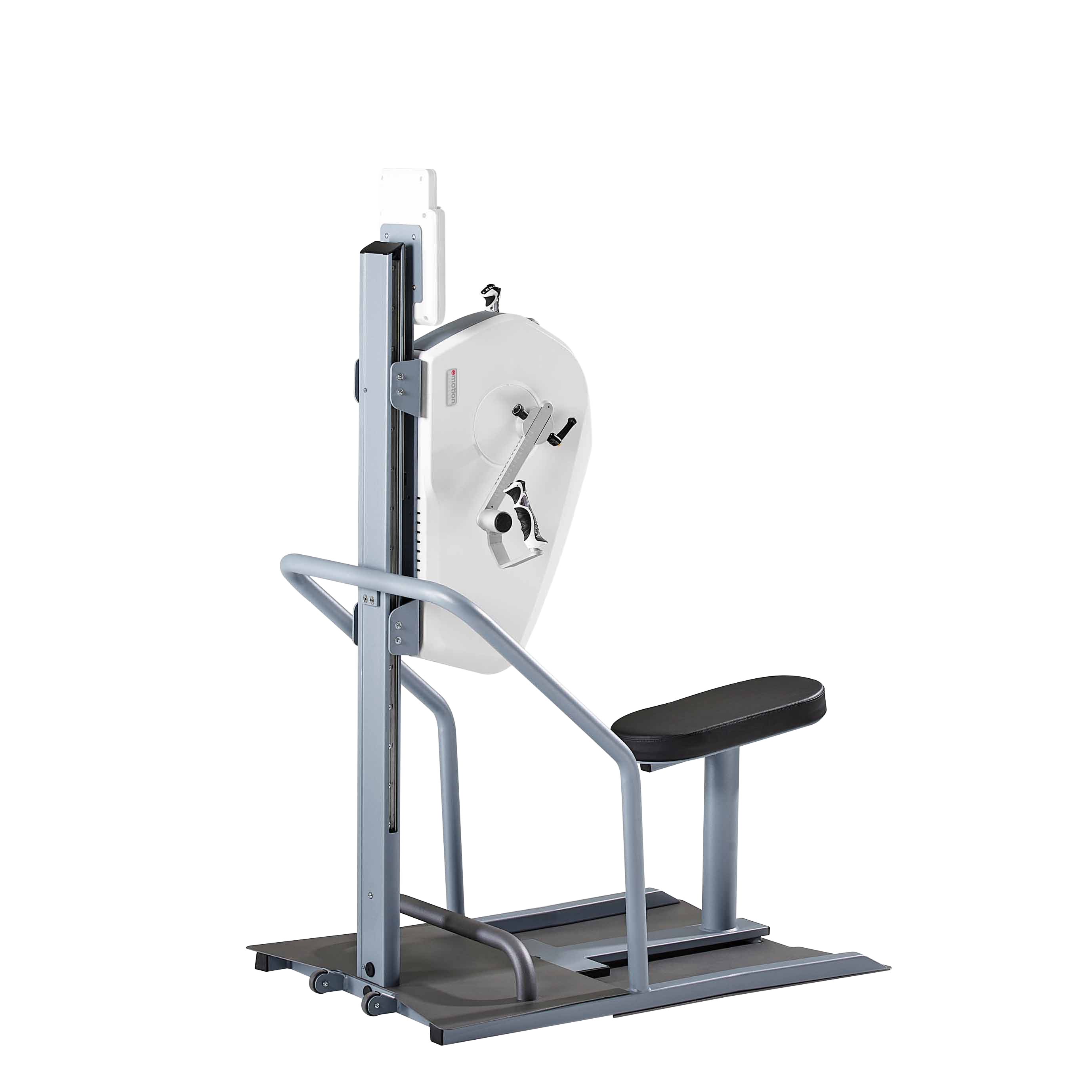 The motion body 900 is an indispensable part of holistic training or comprehensive exercise therapy. This device is ideal for active work of the upper extremities. It can be used for endurance training as well as for mobilisation after joint injuries in the arm and shoulder. The large adjustment range of the drive unit allows excellent positioning of the axle height for both standing and seated training. The movement itself can be done forward and backward and the standard, length-adjustable crank can be switched to a synchronous, so-called handibike mode.
The frame design allows access for many wheelchair users as soon as the seat has been removed. For wheelchairs with tread widths larger than 63 cm or 67 respectively an additional platform can be used. This platform is then also equipped with connectors for wheelchair fixation. Watch the below demonstration of the emotion platform for an even wider wheelchair access. In the meantime the platform has been divided into two parts for easier handling and shipment.
If you want to use for example a large exercise ball, more torso stabilization is necessary. Since our motion body 600 has a very wide adjustable range of 40 cm, it is easily possible to train when standing up, which offers another training variation.
The standardly given length adjustable crank can be switched to synchronous movement (handibike). The asynchronous movement is excellent for the mobilization of the shoulder joint and rotator cuff and regular cardiovascular workouts. The synchronous motion sequence is preferred for further load and for muscle build-up. The synchronous motion sequence is of course also the optimal training for wheelchair users.
Ergonomics are further optimized by the Leki® grips, which do not get uncomfortable even on higher resistance or endurance workouts.
The inplemented click mechanism of the Leki® grips provides extra securing of the hand by means of hand straps or gloves.
Jeder Leki®-Griff ist bereits vorbereitet für für die Cliphalterung, um eine Handschlaufe oder einen Handschuh mit Schlaufe zu befestigen.
Der weite Verstellweg von 40 cm ermöglicht das Training auch für Kinder ab 1,35 cm.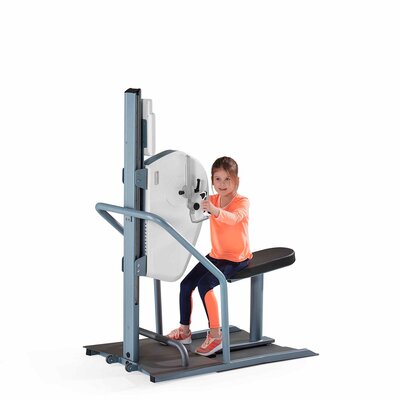 Die geteilte Plattform ermöglicht den barrierefreien Zugang zum motion body auch für Rollstuhlfahrer.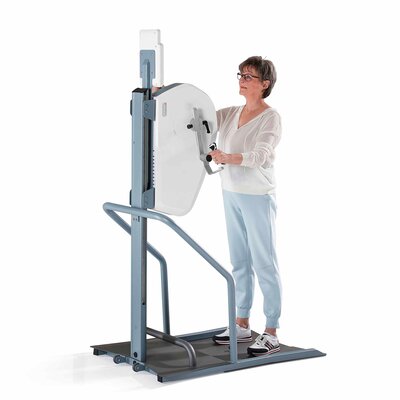 FUNCTIONS
long seat for optimal positioning
seat is easy to remove
gas loaded piston height adjustment of the power unit for a seated or standing training
length adjustable cranks, can be rotated by 180° (for handibike mode)
ergonomic Leki® grips with preparation for clip attachment
bi-directional movement
3 programs: Quick, Watt, Pulse
rpm-dependent and rpm-independent programs
attractive, full-colour display
interference-free Polar®- Bluetooth® Smart connection
durable, clean touch display
quick start, watt training, pulse training
OPTIONS
performance package (Qi charging possibility, max. 550 watts, with power supply from 7 watts)
connect package for system integration (RFID, NFC, Bluetooth® Low Energy, Barcodes)
programme package (8 additional training programmes, coming up: programme storage)
all-in package: performance + connect + programme package
certification according to 93/42 EWG, class IIa
TECHNICAL DATA
7-inch capacitive touch display
Polar® Bluetooth® Smart connection, downward compatible
Mono-belt drive
calibrated and re-calibratable, quiet HBS brake
mains-independent operation
manufactured according to DIN EN ISO 20957-1 S-A-I, DIN EN ISO 20957-5 S-A-I, DIN EN 60601-1-2
medical devices certified according to 93/42 EWG, class IIa
medical power range: 15 - 500 watts, rpm-independent
- fitness power range: 25 - 500 watts, rpm-independent
- rpm range: 15 - 140 rpm
- max. user weight: 150 kg/330 lbs
- dimensions: approx. 116 x 77 x 155 cm/45.7 x 30.3 x 61.1'' (L x W x H), approx. 98 kg/216.1 lbs